Listen to the collection of instruments (Tibetan and Himalayan singing bowls, bells, Gong's, tuning forks, rattles, drum, & much more.) Let yourself unwind and come into a state of ease. The Sound Journey gives us the opportunity to experience how we are connected on a cellular level and recreates the orginal harmonic frequency we were born with, allowing the body to rediscover its own undisturbed harmonic healing frequency. Leave renewed and inspired to embrace new beginnings.
Date: April 26, 2019 Time: 7 PM – 8:30 PM
Place: 40 White Hawk Trail • Patterson, New York 12563
Cost: $30 suggested donation (cash/check at the door)
Pre-Registration Required: Text or call Laura Parker at (914) 879-8416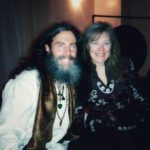 Led by Justin Ram Das and Lynx Livtar Logan
Justin Ram Das and Lynx Livtar Logan, LMT, IKYI, are Kundalini Yoga teacher's, energy healers, massage therapists, crainosacral practitioners and sound healers. They are facilitators of sound healing journeys in the Hudson Valley and beyond for the past ten years.