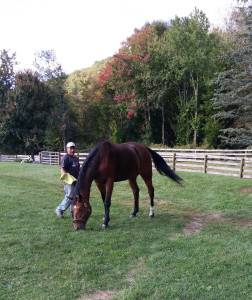 Professional, caring staff living on premises.
Turn-out seven days per week, weather permitting. In inclement weather or unsafe footing conditions, horses are allowed well supervised individual turn-out in the indoor ring.
Stalls cleaned and picked seven days per week.
Full service grooming.
Laundry for horses
Night check seven days per week, including feeding of hay and water to make sure each horse is observed individually.
Holistic approach to care offering: cold laser and magnetic therapy, saddle fitting from the Refined Equine, Chiropractic and Accupunture with Dr. Alan Shoen, Craniosacral and Animal Communication with Natalie Kasdan, sports medicine therapies and movement analysis with Dr.Michael Stewart.
"I have known Laura Parker for over 15 years, and I've known Inner Circle Farm since it was no more than a concept in her mind.
Over the years I've watched Laura's work with horses and her intense concern over their general well being, which has transformed a number of animals from a state of mediocrity into fine athletic specimens. One of those horses is my own.
In creating Inner Circle Farm Laura has always expressed a desire to care for her horses with a holistic approach, which is to say that she treats horses as more than the sum of their parts, but rather as sentient comrades. The end product has been a succession of sleek, tractable horses, suitable for use in any discipline.
From my perspective as a farrier, it has been heartening to see not only concern about the condition of the horses hooves, but active care in their maintenance, which to me is the hallmark of good horsemanship. A horse can only benefit from a sojourn at Inner Circle Farm."
– Denis Girard, Farrier